I was raised in Plano, Texas by parents who valued education and hard work, in a school district that was well-funded and employed outstanding teachers.  In 6th grade, we were required to choose a year of choir, orchestra, band, or general music.  My parents insisted I learn the discipline of an instrument, so with the help of my band director, Ken Valliant, I was assigned the trombone.  Lessons were required, and I was introduced to Bob Burnham.  These two gentlemen are responsible for generating the love I have for the trombone and its role in an ensemble.  They inspired me so much, I practiced before school, after school, and during lunch period.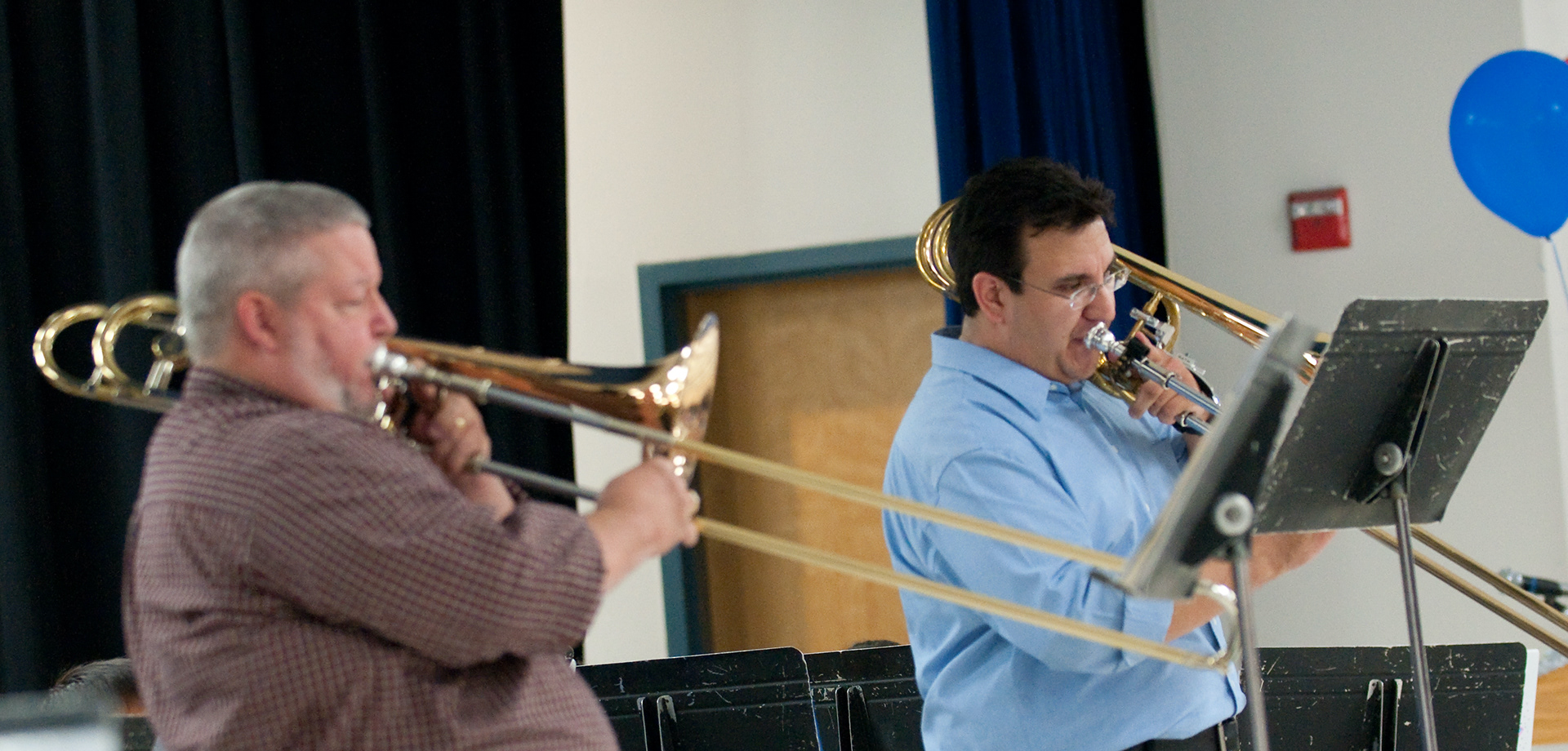 One day, in 9th grade, I attended a Dallas Symphony concert for the first time.  Immediately, I was struck by the power and energy of this precision ensemble.  The sounds unfolded as a vivid story in my mind.  I knew then, with great conviction, that I had to be involved in music in some fashion.  Conductors and their craft fascinated me, and I taught myself to compose music through studying scores.  My high school band director, Al Corley, was very encouraging and even programmed some of my compositions on our band concerts.  A few of these compositions earned me a spot at SMU, where I shortly changed my focus to music education and took a spot in John Kitzman's trombone studio.  His influence on me was profound, and my progress on the instrument rose exponentially.  By the end of my senior year, I was hired as a substitute with the Dallas Symphony to go on tour, record an album, and also perform as co-soloist with the DSO trombone section.  
My interest in playing professionally seemed like less of a pipe dream under his guidance, so I ceased the music education route and instead pursued a master's degree in trombone at The Julliard School.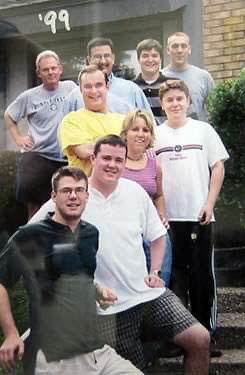 At Juilliard, I received rigorous training from my teacher, Donald Harwood, and worked very closely with Joseph Alessi in low brass classes and trombone choir.  The level of excellence in the studio was a driving force, and I had my first successful audition for the China Philharmonic in fall of 2000.  Wanting to complete my degree, I declined the job offer and was fortunate to later win a position in the Shanghai Broadcasting Symphony Orchestra in spring 2001.  Shortly after graduation, I flew to Shanghai, China to begin my first job in a professional symphony orchestra!
Culture shock and adjusting to the fast-paced rehearsal/concert schedule of a symphony musician was both exhilarating and humbling.  The orchestra actively toured mainland China, and embarked on a special tour to Hong Kong, and Seoul, Korea with Yo-Yo Ma.  In addition to symphonic concerts, I played a lot of ballet and opera.  Yearning to be back home in the U.S., 
I was fortunate to win an audition for a one-year position in the Jacksonville Symphony Orchestra in early summer 2002.
My first season in Jacksonville was a steep learning-curve.  The schedule was even more demanding than my schedule in Shanghai, and it included a Pops series.  The Pops shows ran on little rehearsal, so I had to sharpen my sight-reading skills and learn to become more versatile in my playing styles.  Uncertain whether my contract would be extended another year, I enrolled in the Orchestral Performance program at the Manhattan School of Music for fall 2003.  Roughly two weeks into the fall semester, I was offered another season with the Jacksonville Symphony and moved back to Florida.  An audition was posted for the permanent bass trombone position, and I was fortunate to win the audition in summer 2004.
​​​​​​​
My relationship with the Buffalo Philharmonic Orchestra and JoAnn Falletta also began that summer as a substitute musician for their 2004 Carnegie Hall tour.  In the years that followed, I returned several times as a guest to perform and record with the BPO, and in 2007 I took a leave-of-absence from Jacksonville to accept a one-year position in Buffalo.  In summer of 2008, I was successful in winning an audition for the permanent position.  Under Maestro Falletta's leadership, we recorded 35 albums together, toured Florida multiple times, returned to Carnegie Hall in 2013, and premiered the Triple Concerto for Three Trombones and Orchestra by Eric Ewazen.  During my tenure in Buffalo, I was very fortunate to start guesting with orchestras in Cleveland, Detroit, Rochester, and Naples.  In summer of 2013, I began my relationship with the Pittsburgh Symphony and Manfred Honeck when I received a last-minute call to perform and record Shostakovich's Symphony #5 as guest bass trombonist.
​​​​​​​
My performance that week earned me an invitation to join the PSO's 2013 European Tour later that summer.  Over the next several years, I received follow-up invitations to perform with the PSO as guest bass trombonist on several recordings and another European Tour in 2016.  One week before the 2016 tour and sandwiched between two recording weeks (Tchaikovsky Symphony #4 and R. Strauss Elektra/Der Rosenkavalier), I performed a successful audition and won my current position as Principal Bass Trombonist of the Pittsburgh Symphony Orchestra.
Throughout my career, I've been very fortunate to guest with many fine orchestras, collaborate with superb musicians, and participate in summer festivals and other chamber ensembles.  These experiences have cultivated lifelong friendships along the way.  Please scroll through the list and galleries below to view some highlights!
Classical Artists/Conductors
Emanuel Ax
Kathleen Battle
Joshua Bell
Herbert Blomstedt
Pierre Boulez
Van Cliburn
Gustavo Dudamel
The Empire Brass
Frederick Fennell
Leon Fleischer
Renee Fleming
Sir James Galway
Matthias Goerne
Helene Grimaud

Lynn Harrell
Leonidas Kavakos
Yo Yo Ma
Midori
Ann-Sophie Mutter
Jessye Norman
Luciano Pavarotti
Itzhak Perlman
Gil Shaham
Yuja Wang
John Williams
David Zinman
Pinchas Zuckerman


Jason Alexander
America
Patti Austin
Burt Bacharach
Christine Baranski
Blood Sweat and Tears
Ray Charles
Kristen Chenowith
The Chieftains
Common
Derek Trucks Band
Denis DeYoung (Styx)
Melissa Etheridge
Jose Feliciano
Bela Fleck
Ben Folds
The Four Tops
Art Garfunkel
Lou Gramm (Foreigner)
Marvin Hamlisch
Colin Hay (Men at Work)
Indigo Girls
Cheyenne Jackson
Jane Lynch


Wynton Marsalis
Johnny Mathis
Audra McDonald
Idina Menzel
Natalie Merchant
Edgar Meyer
Randy Newman
Olivia Newton-John
Leslie Odom, Jr.
Bernadette Peters
Pink Martini
Peter Nero
Phylicia Rashad
Debbie Reynolds
Isabella Rossellini
Neil Sedaka
Doc Severinsen
Paul Shaffer
Paul Sorvino
Robby Takac (Goo Goo Dolls)
Three Dog Night
Tamara Tunie
Ben Vereen